Wood baseball bats are commonly made from Birch or Maple. The bats are finished in a clear, durable, hard finish. You can choose the desired wood and length. All birch and maple bats, including the souvenir bats, are made from split wood. The bats are generally a minus 2-3 of the length, however may vary from 1-5.
Hard Maple (when available) - a much harder and heavier wood. A finer and tighter grain. A more solid type of wood with more drawing power. The barrel usually has to be thinned down to keep the weight lighter.
Birch - this wood is being used by many of the major bat producers. Its used instead of maple because it averages about 1 ounce lighter than maple, has more flex and is more shatter resistant. It is very hard to distinguish the difference.
About Model Types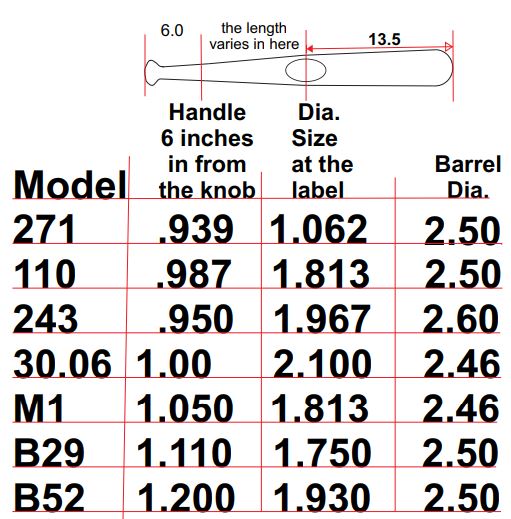 About Bat Cupping
---
Cupping is when some material at the end of the barrel is removed. This is done to lighten the bat and increase bat speed. It is generally 7/8 in deep and 2 inches in diameter at the large end of the bat which removes approximately 3/4 oz. of wood. We do not recommend cupping for youth bats.
TIP
Generally for Little League bats ages up to 6 years we recommend 28 inches, for 6 to 12 year olds 30 inch, and after 12 years depending on the size of the person a 31 to 34 inch. Little League bats weigh from 22 to 25 ounces.